Article from Cafedelites
Garlic steak & cheesy bacon potato hash foil packs are two favourites cooked in one pack! no pans to wash up afterwards!
Cheesy potato hash –> tender-juicy-charred steak –> grilled OR cooked how ever you like in garlic butter for the ULTIMATE flavour combination! And if thats's not enough, it all gets topped with bacon. CRISPY BACON. I'm so excited to share these extremely versatile Steak & Cheesy Bacon Potato Hash Foil Packs! Recipe caters for both medium and well-done steaks.

foil packets
These packs can be cooked anywhere. Personally, I recommend grilling for the best results, but what if you don't have a grill? Get your skillets out and cook them on your stove top in a really hot cast iron skillet, or your packets will simmer and boil on the inside. To get the steak to char on the inside, you can flip your packets half way through cooking time. They will char, as shown in the pictures or the video at the bottom of this post.
beef cuts
Good quality cuts of meat yield the best results that stay tender during cooking.
Whole eye fillet
Rib eye
Strip (or Porterhouse)
Cheaper cuts WILL produce a tough and chewy result. Steak should be at room temperature. Pat them dry with a paper towel to prevent the meat from releasing too much water and steaming in the packets while cooking. Yes, the meat does char through the foil when grilling! If using your oven, make sure you broil in the last 5 minutes of cooking for a charred result.
This method works better for well done steaks. If you prefer medium rare or medium, I don't recommend this option.
pictured below is what you will do for juicy well-done steak pieces.
You're going to slice it into 2-inch rounds that are at least 1-inch thick to guarantee even cooking with the potatoes.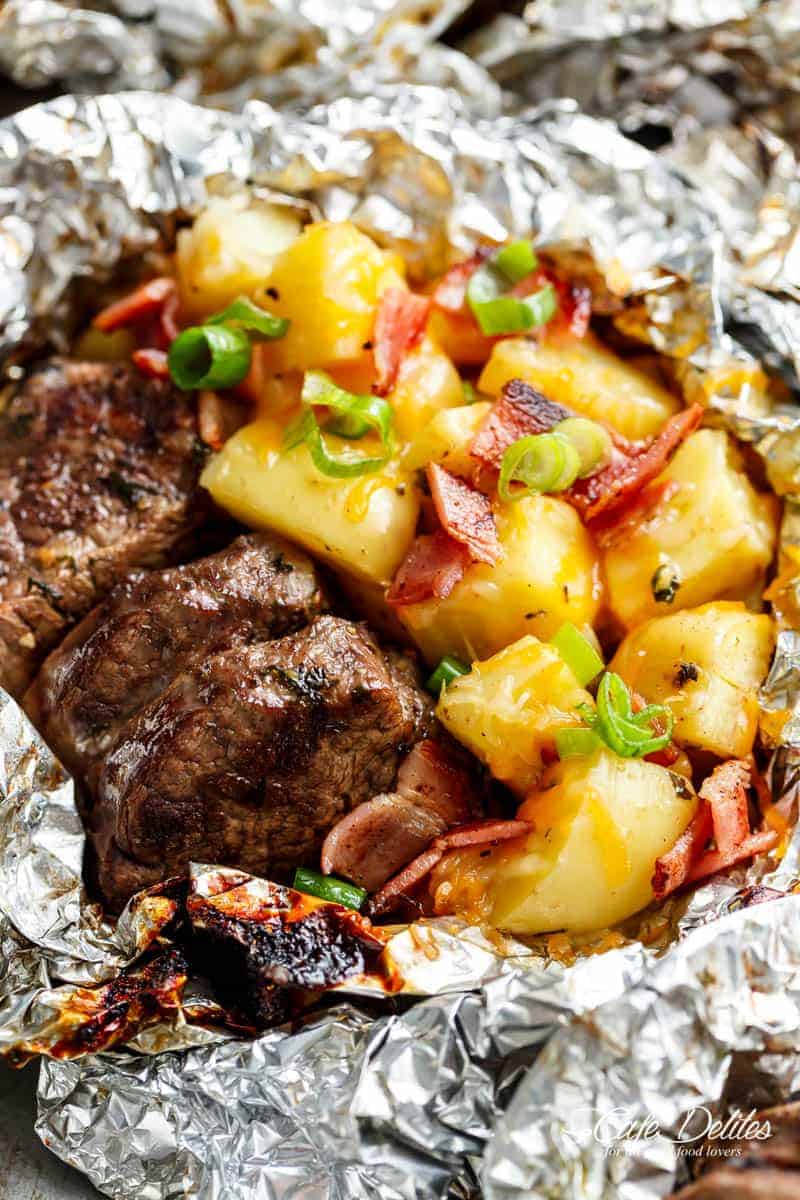 this picture shown below is what you will do for a beautiful piece of medium-rare steak.
Cut your fillet into 4-inch long and 3-inch thick pieces (as shown below). The bigger and thicker you cut them, the juicier the steak will be once its done. For rarer steaks, cut them bigger (5-inch pieces and 4-inch thick).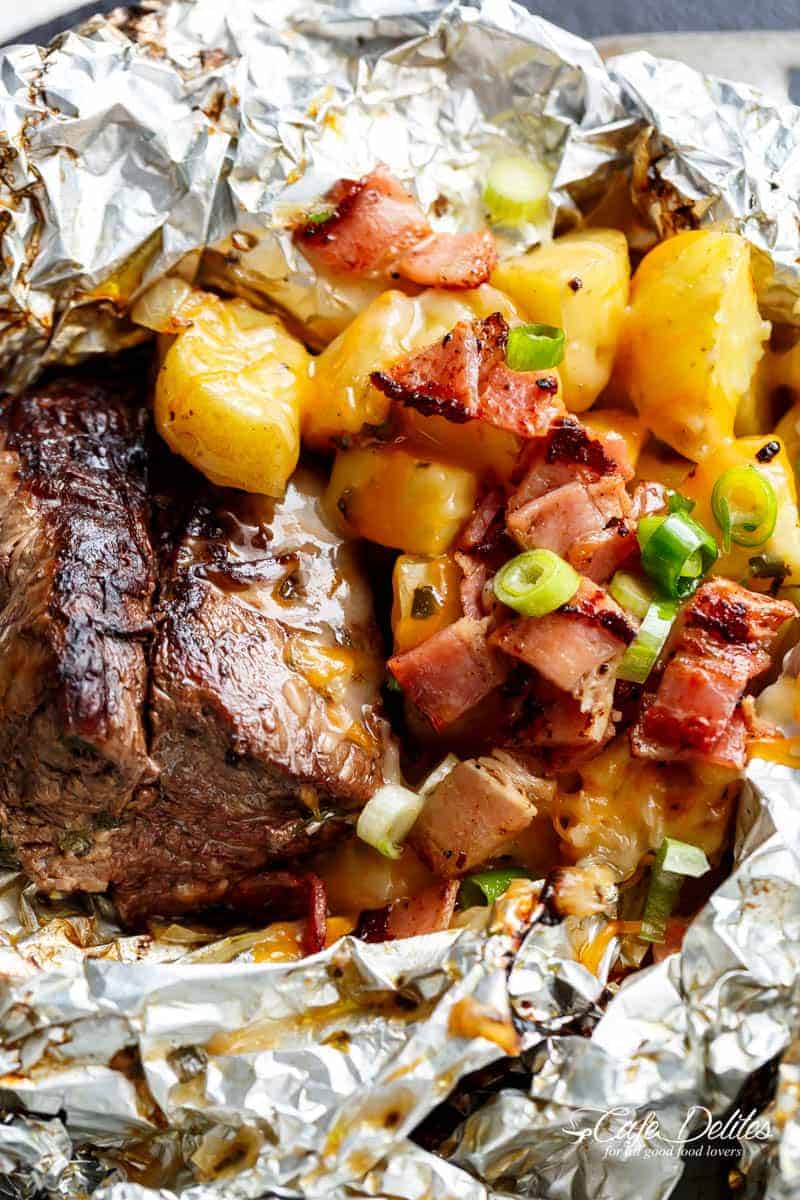 potatoes
Make sure you use baby Yukon Gold and cut them into 1-inch pieces to ensure they cook through. Yukon gold potatoes are the best for these foil packs. Any other potato, I suggest par boiling them for 5-10 minutes depending on what potato you are using.
Topping with bacon is optional.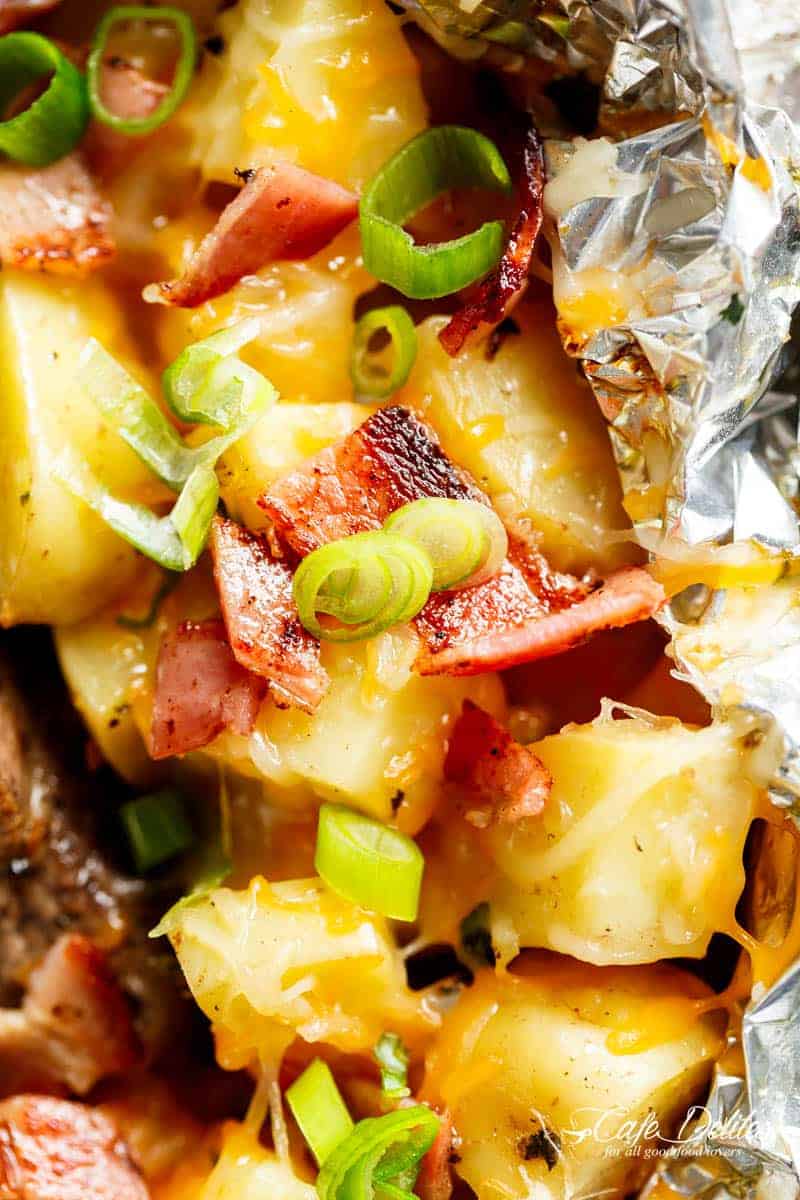 Garlic Steak & Cheesy Bacon Potato Hash Foil Packs can be cooked on the grill, stove top OR oven! Two favourites cooked in ONE PACK means NO pans to wash up!
Subscribe To Our Newsletter
Join our mailing list to receive the latest news and updates from our team.