Article from Unsealed4x4.
Given its position in the Great Sandy Marine Park and proximity to K'gari (Fraser Island), it's no surprise there are some amazing boating spots to explore from Hervey Bay.  
In fact, I would even say that Hervey Bay is a boater's paradise. Of course, being a local I know just how special these places are! So without further ado, here are some fantastic boating spots easily reached from Hervey Bay.
Pssst … I have included a very basic guide on how to get to these Hervey Bay boating spots but obviously, you will need to use your GPS and get yourself a marine map of the Great Sandy Marine Park before you head out.
Pelican Banks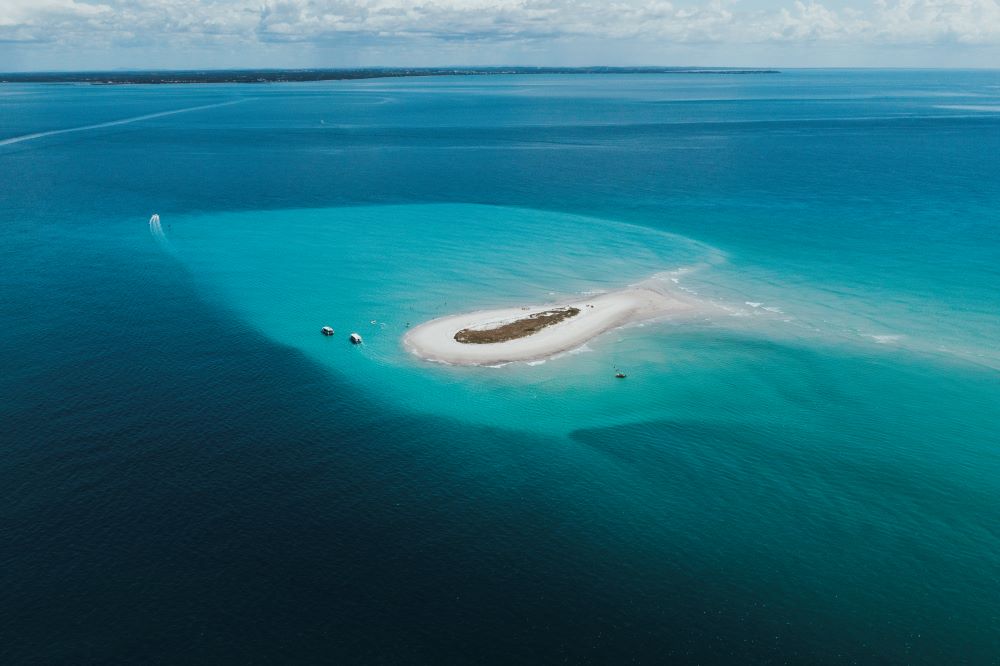 Out of all the great boating spots from Hervey Bay, I almost didn't include this one. Why? A part of me wants to keep it a secret.
Pelican Banks is a small sand island that grows larger at low tide. There is minimal vegetation and no facilities whatsoever. The white sand and clear water make it picture perfect and it's a natural roosting area for many sea birds. As a result, it can sometimes stink to high heaven.
At Pelican Banks you can fish from the beach for flathead and whiting, or just relax and let the kids splash around in the water. It doesn't get much better than this!
Located approximately 9-10 km NNE from the Urangan Harbour in Hervey Bay, boaters usually navigate to the northern tip of Big Woody, cross the deepwater channels and boom …. they're there.
Wathumba Creek
Wathumba is a stunning creek on K'gari (Fraser Island) that is usually only accessible within 1 – 2 hours after low tide. Anchor your boat in the deep water inside but if you like to leave it high and dry, you can do that too here. Whiting, bream and flathead are commonly caught in the creek.
The water is shallow in places so it's great for canoeing, SUP's and splashing about. When the tide goes out you can set the kids to work pumping yabbies and the soldier crabs are always a hit with little ones. Keep your eyes peeled for sea turtles!
If like many before you, the temptation to camp overnight is great, there are two National Park camping grounds that can be booked here. One campsite (Wathumba) is on the eastern side of the creek and has facilities. However, as it can also be reached by 4WD, it can get crowded. The other campsite (Teebing – Wathumba Spit) is located on the west side of the creek, has no facilities and is only accessible by boat. If you are comfortable being completely self-sufficient, this is the nicer choice.
Reach Wathumba Creek around 50km NNE from the Urangan Harbour in Hervey Bay by navigating to the northern tip of Big Woody Island, crossing the deep water channels, passing pelican banks and heading to Moon Point on K'gari (Fraser Island). From here you can hug the island all the way up to Wathumba Creek.
Big Woody Island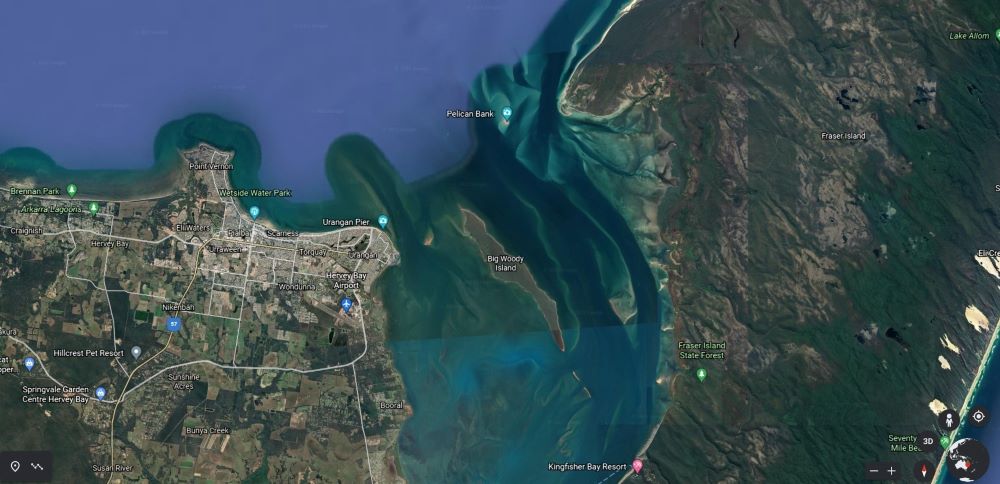 Big Woody Island (Tooliewah) can be found between K'gari (Fraser Island) and Hervey Bay around 8km east of the Urangan Harbour. It features open forests and rocky foreshores and the lack of development is the best thing about it. Once you get on land at Jeffries Beach on the island's south, hike the 6km return trail to Middle Bluff, a heritage-listed lighthouse.
Jeffries Beach is also the island's only camping ground, which can be booked via the QLD National Park booking website here. The campground is accessible by boat only and you must be completely self-sufficient as there are no facilities.
If you find the right spot, epic fishing can be found on the east side of the island with the Roy Rufus and Hardie artificial reef. Summer will see you catch sweetlip, saddletail snapper and golden trevally and winter will see you haul in coral trout and pink snapper.
Coongul Creek
Coongul Creek is a large creek running parallel to K'gari (Fraser Island) on the western side. There are a few sandbars at the mouth so you will need to time your run in and out of the creek 1-2 hours either side of low tide. It's not uncommon to see boats high on dry on the low tide here as boaties wait for a returning tide to re-float.
The water is shallow and crystal clear, making it a top spot for families. Kids can skim on the water with their body boards, catch bait fish, chase crabs and do all the usual things that kids do outdoors. The creek is great for SUP, kayaks, canoes and anything that's fun and floats.
In terms of fishing, finding fresh bait with a yabby pump is no problems and you can expect to catch whiting, flathead and bream close to the mouth.
National Park Camping is available but you will see 4WD campers here as well.
Coongul Creek is located around 17km NNE of the Urangan Boat Harbour. Boaties can navigate to the northern tip of Woody Island, cross the deep water channels, pass pelican banks, reach Moon Point on Kgari (Fraser Island), and then hug the island north until you reach the mouth of the creek.
McKenzies Jetty and Kingfisher Bay Resort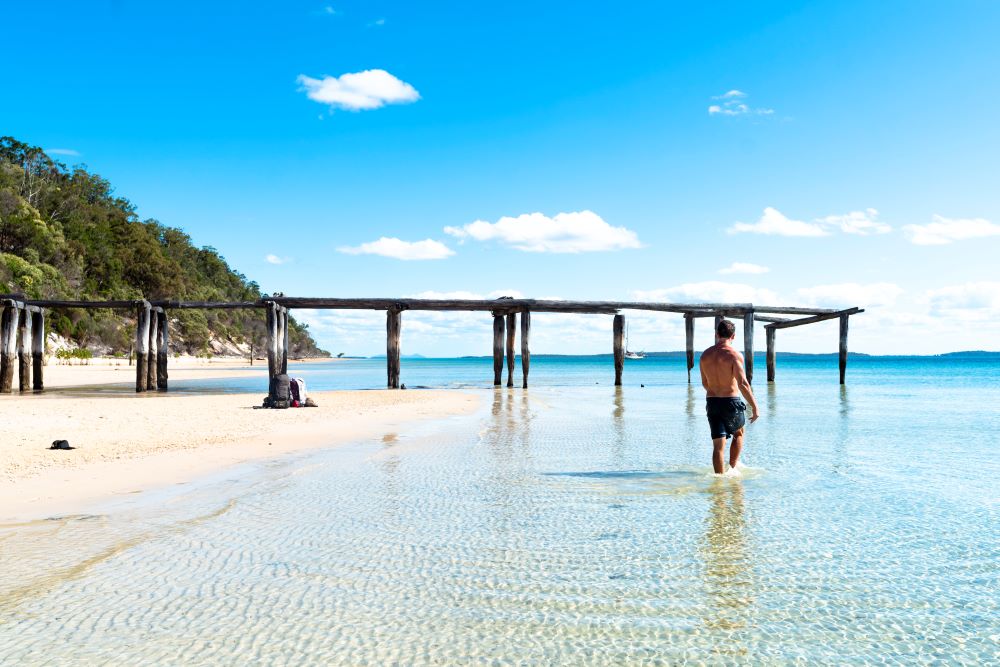 McKenzies Jetty on K'gari (Fraser Island) is a popular day trip from Hervey Bay. The Jetty has an interesting history as the area was used during WWWII for training the Australian Z special unit. You can read all about it on the information boards near the jetty.
Seek out Kingfisher Bay Resort around 2.5km north and stop in to use the day visitor area. Here you can access the pool and buy a pub meal. Boaties can anchor at Kingfisher or land their vessel on the beach near the McKenzie Jetty.
Although you can reach both from the Urangan Boat Harbour, it's quicker to leave from the River Heads boat ramp. From here its only around 10km east to reach the island and head up towards Kingfisher Bay Resort.
Round Island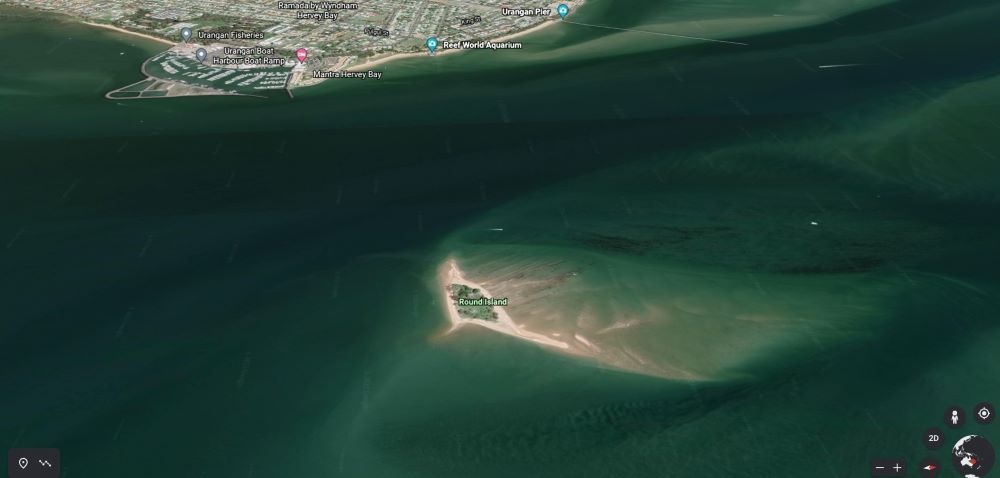 Round Island is only around 1.3km from the Urangan Harbour. As a result, some people even paddle across in a kayak if the weather is good. The island doesn't feature the same white sand as K'gari (Fraser Island) but it certainly has its own appeal.
Surrounded mostly by a shallow rock reef, many opt to fish the reef NE of the island. Expect to catch cod and tusk fish here and whiting from the western side sand spit. Of course, you can also throw a line directly off the shore.
The water surrounding is crystal clear but it gets deep quickly and the tidal flow is strong only a few meters from the shore. I wouldn't let kids past the shallows here. Don't worry, finding things in the shallow rock pools will keep them occupied. The island is small and can be strolled around in under 10 minutes.
I recommend watching the sunset over Urangan from here.
Moon Point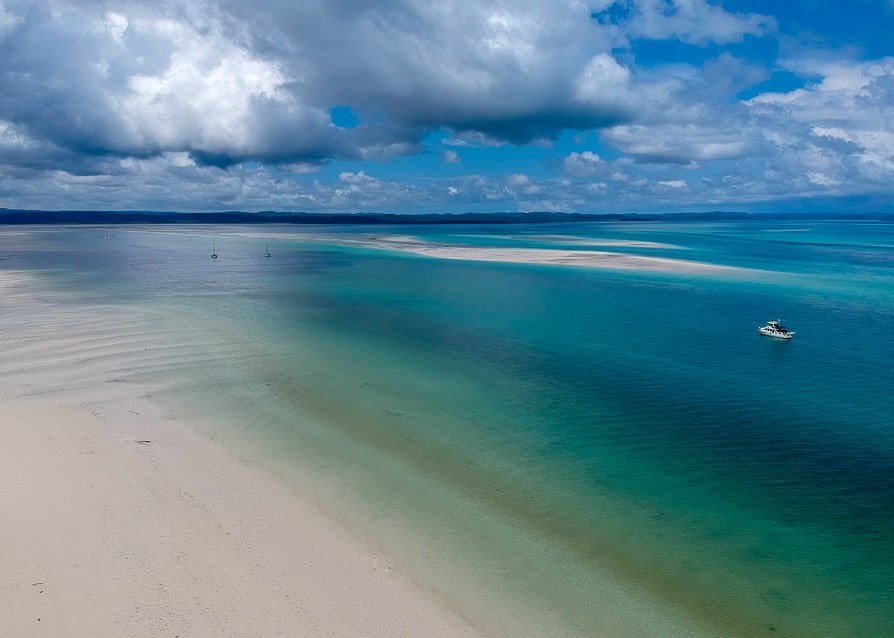 Moon Point is another great remote part of K'gari (Fraser Island). It's a great day trip from Hervey Bay but if you want to camp, National Park Camping can be booked here.
The protected waters around Moon Point are ideal for kayaking, fishing and boating. Play in the water, set the kids to work pumping yabbies and explore the land and creek.
Fishing around Moon Point you can expect to catch whiting, dart, good sized flat head and decent sized bream.
Getting here from the Urangan Boat Harbour, navigate to the northern end of Big Woody, head across the deep water channels, make your way past pelican banks and scoot across to Moon Point on K'gari (Fraser Island).
Subscribe To Our Newsletter
Join our mailing list to receive the latest news and updates from our team.